Polished Dental Care strives to stay on top of the latest technology to provide the highest quality treatment to our patients.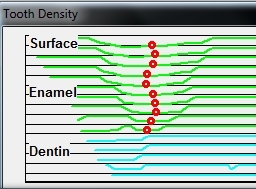 Digital X-rays with Logicon
Digital radiographs have changed dentistry. Pictures show up immediately on the computer in higher resolution while exposing patients to significantly less radiation than old-fashioned film X-rays. In addition to digital radiography, we utilize a unique program called Logicon. Logicon is an FDA approved software that aids in caries detection. It assists dentists in the proper diagnosis of cavities between teeth. It helps in detecting decay in early stages, allowing dentists to provide minimally invasive treatment.
All Paperless
In this day and age, most people are doing EVERYTHING on the computer or their phones. Why should the dental office be any different? At Polished Dental Care, we are completely paperless. Patient forms are completed on IPads, treatment plans are completed on the computer, and any patient information that must be exchanged via e-mail is completed on a HIPAA compliant server.
Intra-Oral Photography
As a part of everyone's treatment plan, we take intra-oral pictures with a special camera that can show you your mouth through our eyes. Whether we are focusing on a specific tooth or an area on the gums, pictures can be taken, documented, and saved in a patient's electronic chart for reference. Our camera uses focused light and magnification to help view teeth clearly. This aids in patient education and helps our patients make informed decisions about their treatment and oral health. In addition, these pictures can be submitted with insurance claims for case approval as X-rays alone may not tell the "entire" story.